---
https://www.thecut.com/2018/01/woody-allen-american-film-institute-diane-keaton.html?utm_source=fb&utm_medium=s3&utm_campaign=sharebutton-t
---
…how covertly abusive men force or seduce others into collusion. 
---

---
https://www.thecut.com/2018/01/woody-allen-american-film-institute-diane-keaton.html?utm_source=fb&utm_medium=s3&utm_campaign=sharebutton-t
---
Why We Applaud Woody Allen's Misogyny
---
it's a rhetorical device through which we talk about something we claim we won't, can't, or shouldn't mention. It's a clever way of bringing up a touchy or sensitive topic.
---
relies heavily on a combination of aposiopesis (breaking off from speech and not finish a thought), paralepsis (drawing attention to something by seeming to ignore it), and a kind of non sequitur (sometimes called anacoluthon), where you purposely start a thought in a way that creates a false expectation as to how it will finish, then change direction. 
---
"..it was almost as though the incident had never taken place."
---
"…they like her. And it would have been more demeaning to Keaton for anyone to focus on what Allen had actually said. You had a choice between feeling complicit if you compounded the insult by mentioning it, or actually being complicit if you didn't. By avoiding the whole matter, they became complicit, but they didn't actually do anything that would hurt Keaton."
---
Allen really is a genius. He figured out a way of doing something vile that nobody could stop and that wouldn't be described. He manipulated everyone, making all of A-list Hollywood complicit and putting the whole entertainment-media industry in a bind. It was brilliant:
---
a textbook example of how covertly abusive men make others complicit in their abuse. Right out there in the open, for everybody to see.
---
And nobody could talk about it, so that — on top of everything else — it was as though Allen was thumbing his nose at everyone.
---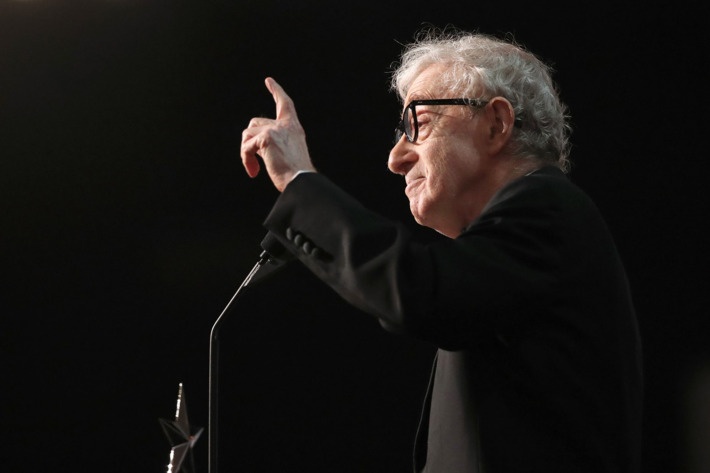 ---
like guys in bars who try to discombobulate women they regard as out of their league by walking up to them and insulting them with statements that sound superficially like compliments. 
---
Knowing Yeats is so much a part of that whole New York-Jewish-intellectual-liberal-arts gestalt he's always tried to seduce audiences with 
---
I can't fathom it, wanting to do that to someone. But it makes me wonder what else a guy with that capacity for malevolence would resort to.
---
Because what Allen did at the AFI tribute is exactly what abusers do: committing acts they think no one will talk about and delivering blows they think no one will see.