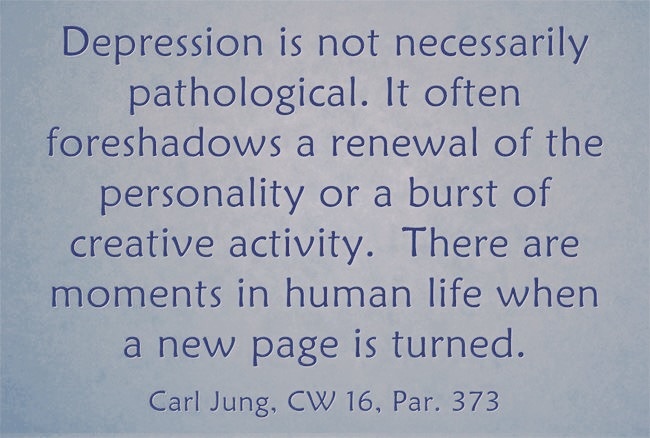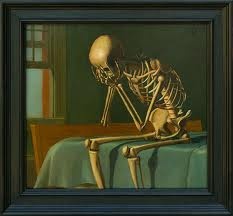 ---
Center for Courage & Renewal
Reconnecting Who You Are With What You Do "Welcome to the Human Race" an Interview with Parker J. Palmer on the Topic of
Depression, Courage & Renewal
April 7, 2015
---
…our culture defines depression as something shameful. This angers me because it leads to a situation where millions of people are suffering not only from depression, but live in an aura of shame about it, as if it were evidence of some sort of personal weakness or character flaw
🙈🙉🙊
the way it has become "medicalized," which obscures the spiritual dimension of some forms of depression.
🙈🙉🙊
This tendency we have to want to reduce depression to a biological mechanism seems to me misguided and ultimately harmful.
🙈🙉🙊
…we should be exploring together in open and vulnerable ways; from something that's purely biological to something that has dimensions of spiritual and psychological mystery to it; and from something that's essentially meaningless to something that can be meaningful—all of this seems to me to be important.
🙈🙉🙊
...depression is not so much like being lost in the dark as it is like becoming the dark.
🙈🙉🙊
In the depths of depression you have no capacity to step back out of the darkness, or move a bit away from it, and say, "Oh, look at what's happening to me. What's this all about?"
🙈🙉🙊
When you become the dark rather than being lost in it, you don't have a self that is other than the darkness. Therefore, you can't get perspective and try to make meaning of it.
🙈🙉🙊
Depression is absolutely exhausting when you're in the depths of it, and people who commit suicide often, to put it simply, need the rest.
🙈🙉🙊
a very lonely journey.
as if I had a contagious disease.
🙈🙉🙊
…well-intended but inadvertently hurtful advice that allowed them to leave their version of a "gift" in my hands—and then get out of the room as quickly as possible.
🙈🙉🙊
a rejection, or even a kind of curse.
🙈🙉🙊
…do everything in your power to let [the one suffering from depression] m know that you're not afraid of them.
🙈🙉🙊
Be present to them in a way that expresses faith and confidence that they have what it takes to make it through.
🙈🙉🙊
Don't come to them with cheap encouragement of the sort some people tried on me: 'But, Parker, you're such a good guy! You've helped so many people, you've written such good books, you've given such good talks. Can't you fall back on all of that and pull yourself out of this hole?'"
🙈🙉🙊
you're feeling like a worm,
when you've totally lost your sense of self,
🙈🙉🙊
"But, Parker, it's such a beautiful day outside! Why don't you go out and soak up some sunshine and smell the flowers."
🙈🙉🙊
I didn't have an ounce of capacity in my own body to really experience that beauty or that loveliness. So the encouragement to get outdoors and see how lovely it is turned out to be a depressing reminder of my own incapacity.
🙈🙉🙊
a couple of things happened that allowed me to start making meaning of the experience.
🙈🙉🙊
One is that I found myself [to be] a more compassionate person. When you suffer, if you hold it in the right way, in a supple and open heart, you become much more empathetic toward the suffering of others.
🙈🙉🙊
you become less afraid of other people's suffering.
🙈🙉🙊
you're no longer treating it as a sort of contagious disease that you too might catch.
🙈🙉🙊
You've been hollowed out by your own suffering, which makes space inside you for the suffering of other people.
🙈🙉🙊
You're better able to offer an empathetic presence to them.
🙈🙉🙊
you start to develop a sense of community which, in an odd way, begins to normalize the problem.
🙈🙉🙊
the most important words I can say to someone who comes to me with almost any form of suffering—after I've listened to them deeply, after I've attended to them profoundly—are, "Welcome to the human race!
🙈🙉🙊
No matter how horrendous their experience, there's nothing in me that wants to say, "I can't bear to hear this!" or "How could you ever let such a thing happen?
🙈🙉🙊
Now you enter the company of those who have experienced some of the deepest things a human being can experience."
🙈🙉🙊
…this incredibly isolating experience called "depression"—and it's isolating to a greater extent than I imagined survivable—ultimately reconnects you with the human community in a deeper, wider, and richer way.
🙈🙉🙊
surviving depression can make you more courageous.
🙈🙉🙊
…once you've survived depression, you can say to yourself, "What could be more daunting than that?
🙈🙉🙊
when I'm not threatened I'm more likely to speak from a soulful place, not an ego-defensive place—and my message is more likely to be well received, even if it is critical.
🙈🙉🙊
… [depression] becomes a benchmark experience against which other things just don't look so bad.
🙈🙉🙊
…sharing the experience as openly as I know how to with others. But before doing this, it's important that a person's experience of depression, of becoming the darkness, be well integrated into his or her self-image and self-understanding.
🙈🙉🙊
If there is any residue of shame or a sense of being personally flawed, then the experience may not be ready to be shared, and it could in fact be unhelpful or even dangerous to do so.
🙈🙉🙊
I am my darkness and I am my light.
🙈🙉🙊
I am a guy who spent months cowering in a corner with the shades pulled down, as well as a guy who can get on stage in front of several thousand physicians and deliver some challenging messages. I am all of that, and I don't need to hide any of it."
---
---